The famous 10th Cavalry – Buffalo Soldiers – arrived at Fort Ethan Allen on July 28, 1909 replacing the 2nd Squadron of the 15th cavalry and the 1st squadron of the 11th cavalry. The 10th came up from New York City where they had just arrived by troop ship from their last posting in the Philippines, where they had been stationed 1907-1909.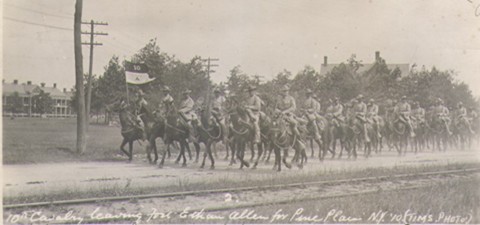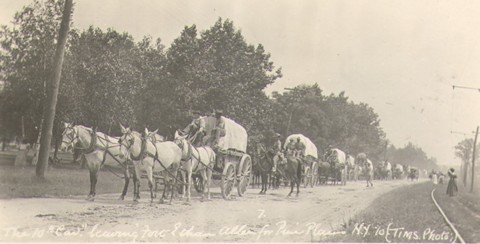 Bringing the 10th to the Burlington, Vermont area brought 750 black enlisted soldiers; with them came their wives, children and others, perhaps as many as 1,500 African Americans. Before their arrival, the greater Burlington area had a total black population of 117. There was some fear and reservation about this change but by all accounts the 10th was very well behaved and missed when they left the Post in 1913.
This was the first time negro troops had been quartered in New England. While there was talk of Jim Crow facilities and segregation the idea was dismissed. A small black business community did emerge to cater exclusively to the new black population. While here the public enjoyed watching mounted drills including a band on white horses, weekly parades, the post baseball team frequently played local clubs, and the 10th did field exercises across the state. The 10th left the base in November, 1913 when the 2nd Cavalry returned to the Post. The new posting for the 10th was Fort Huachuca in Arizona where they stayed for 18 years.